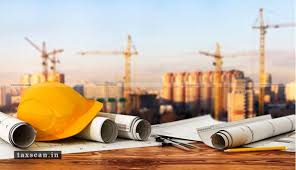 You choose construction services in Maharashtra for getting your commercial or industrial construction projects done. These construction types take time and are mostly expensive.
The construction services you choose will be solely responsible for carrying out the projects hence you have to be very careful while choosing these services.
It is incredibly important to select good construction services in Maharashtra.

Here are some major ideals which you should search for in construction services.
Success and experience –
• A very vital quality which you need to search for in any construction services is a great track record of experience and success.
• You must not go for such construction services which have a bad track record of projects. And do not really have experience in your sector of requirement. It is a major red flag if the construction service you choose has never worked with and client with similar requirements as yours.
• You should not judge a company based on one last massacre but still, why go for that one construction company who does not have a clean record. There are so many other construction services in Maharashtra to choose from.
• Until and unless the construction services you choose starts working on your project you will not truly know how they work. However, the experience of a company can be quite a significant indicator.

Great risk management –
• The risk management skills of construction services in Maharashtra has to be one of the major elements of a promising construction company.
• It supports and protects their clients from any severe financial harm, at an emergency like an injury, an accident or a lawsuit.
• You must choose such construction services which are fully bonded and financially stable. So, if there is any such requirement then the company should be capable enough to handle the situation through their risk management skills.

A team of skilled professionals –
• Any successful construction service in Maharashtra will have a diverse team of skilled professionals, which is experienced and know the job well.
• Mostly any project that the construction services companies will take up, will need professionals like estimator, project managers, safety inspectors, surveyors, crew foremen, QA/QC inspectors, mechanics, administrative assistants, truck drivers, machine operators, and even architects.
• The construction services you will choose for your project should either have all these professionals on faculty or at least have ready access to these professionals through any other means.

Modern Technology and equipment –
• The futuristic construction services in Maharashtra must possess all the modern technology and equipment which are required for innovative your project.
• This includes almost everything, from machinery to tech innovations and modelling software. The construction services you choose should embrace modern strategies for completing their projects.

Commitment to safety –
• Any renowned construction services company will commit to safety. It is a major requirement in construction companies.
• The construction works fall under the nation's most hazardous jobs, as there is an involvement of heavy and risky machinery.
• Therefore, the construction services in Maharashtra you choose should ensure the safety of everyone present on the premises.
You should go for the construction services that fit into the above-mentioned standards. Commitment to safety must be a fundamental quality.
As a client, you should be able to count on your chosen construction services for providing you with high quality and efficient work.
This entry was posted on November, 23, 2020 at 12 : 18 pm and is filed under Construction Services. You can follow any responses to this entry through the RSS 2.0 feed. You can leave a response from your own site.